Informations de base
Modèle: Citric Acid Anhydrous
Description du produit
Introduction
Best price Food Grade Citric Acid Monohydrate /Citric Acid Anhydrous
product name:Citric Acid
CAS No.:5949-29-1
Purity: 99% min
Appearance:White Crystal Powder
Citric Acid is mainly used as flavoring agent, preservative and antistaling agent in food and beverage industry. Citric Acid also can be used as antioxidant, plasticizer, detergent in chemical, cosmetics and detergent industries. As a food additive, Citric Acid Anhydrous is an essential food ingredient in our food supply. As a leading food additives and food ingredients supplier in China, we can provide you with high quality Citric Acid Anhydrous.
Specifications:
| | |
| --- | --- |
| Item | Standard |
| Description | White or transparent crystals |
| Solubility | Pass test |
| Clarity & Color Solution | Clear |
| Content | 99.5%~101.0% |
| Sulphate | ≤150ppm |
| Oxalate | ≤100ppm |
| Heavy Metal (as Pb) | ≤10ppm |
| Barium | Pass |
| Calcium | ≤200ppm |
| Iron | ≤50ppm |
| Chloride | ≤50ppm |
| Sulphated ash | ≤0.1% |
| Water | 7.5%~9.0% |
| Readily carbonisable substances | Not darker than the standard |
| Lead | ≤1ppm |
| AS | ≤1ppm |
| Mercury | ≤1ppm |
| Aluminium | ≤0.2ppm |
| Bacteriaendotoxic | ≤0.5IU/mg |
Function
At room temperature, citric acid anhydrous powders is a colorless translucent crystals or white granules
or white crystalline powder, odorless, very sour taste, slight deliquescence in moist air. Citric acid anhydrous
powders can exist in the form of the anhydrate or monohydrate.
When heated to 175 ° C,it will decompose to produce carbon dioxide and water, the remaining white crystals.
Citric acid is a strong organic acid,
Application
1. Food industry: mild and refreshing acidity citric acid anhydrous powders is widely used for a variety of
beverages, soft drinks, wine, candy, snacks, biscuits, canned fruit juices, dairy products and other food
products.
2. Chemicals and textiles: use citric acid or salts thereof as builders, can improve the performance of the
washing product, can rapidly precipitate the metal ions, to prevent readhesion of pollutants on the fabric
maintain washed necessary alkaline; dirt and ash dispersion and suspension; improve the performance
of the surfactant.
3. Environmental protection: citric acid - sodium citrate buffer for flue gas desulfurization.
4. Livestock production:citric acid in piglet feed, early weaning, feed utilization increased 5% to 10%,
increase the amount of litter pigs.
5. Cosmetics: Citric acid is a kind of acid, the main role is to accelerate the horny update.
6. Sterilization: citric acid and 80 ° C temperature combined effects kill bacterial spores, and can
effectively kill bacterial spores of the pollution in the hemodialysis machine line.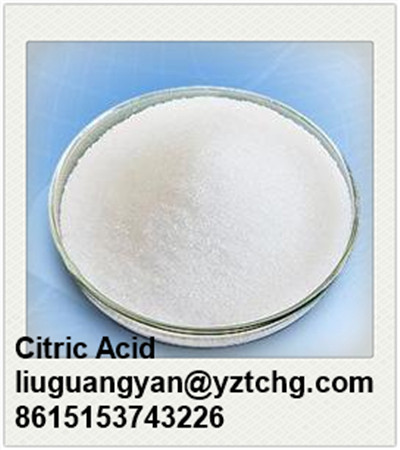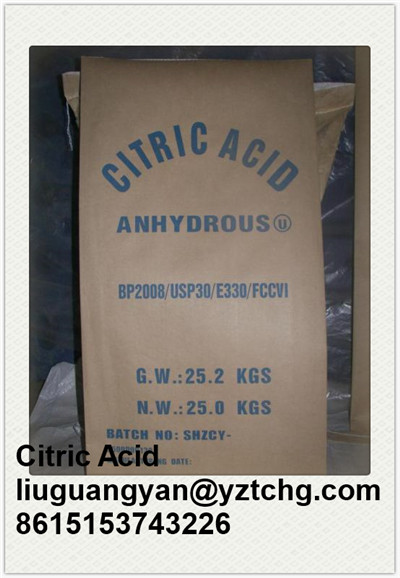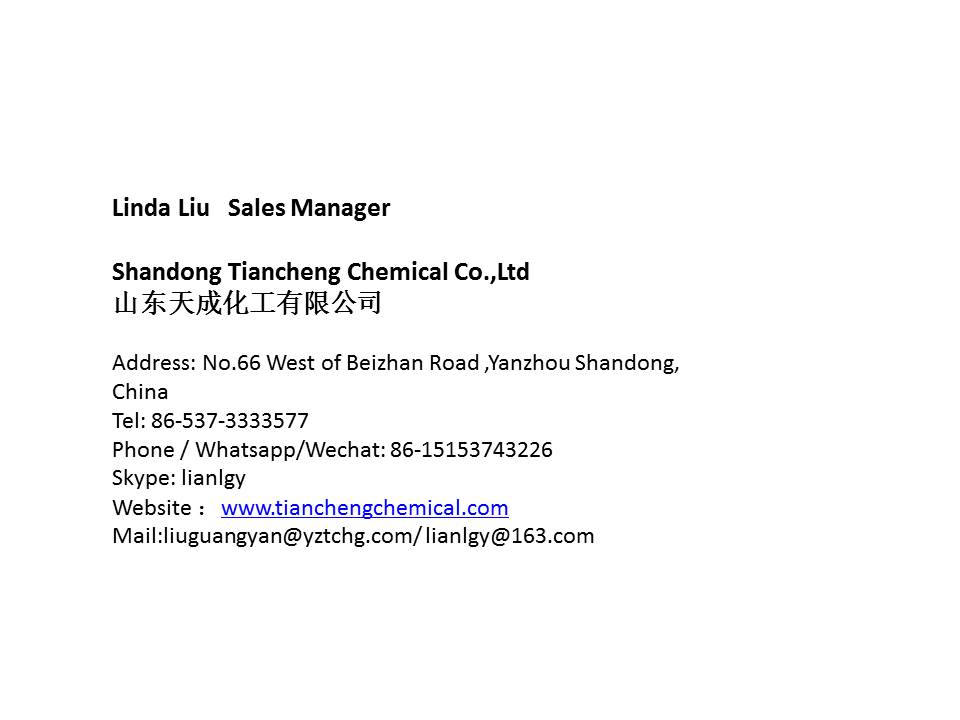 Shandong Tiancheng Chemical Co., Ltd.
Shandong Tiancheng Chemical Co., Ltd a été créée en 1999, située dans le parc industriel de Shandong Yanzhou Chemical Industry Park, une entreprise de haute technologie sur les activités de recherche, développement, production, commerce, etc. avec un capital de 60 millions de yuans et total des actifs de 350 millions de yuans et 360 employés. Les produits principaux couvrent les produits chimiques, les produits chimiques en caoutchouc et en plastique, les produits pharmaceutiques intermédiaires, les produits chimiques de base, etc. Les produits sont non seulement vendus dans tout le pays, mais aussi en Amérique du Nord, Europe, Japon, Corée, Asie du Sud-Est et d'autres pays ou régions. La quantité, la qualité et la technologie des produits chimiques papier sont en tête du monde. La part est supérieure à 20%, couvrant 40% du marché intérieur. Les produits chimiques pour le papier et les plastifiants pour l'environnement ont passé avec succès les tests Pony et ont été certifiés par SGS. La société a mis en place un centre de R & D pour améliorer la technologie et une base de formation à la fois pour les stages d'étudiants et les recherches doctorales avec Inner Mongolia University. Nous avons passé ISO9001: 2008 certification du système de gestion de la qualité; a remporté le prix national de gestion de la qualité pour les PME; classé comme «Top 100 des entreprises privées» et «Unité avancée de sécurité de la production» pendant quatre années consécutives par le comité du parti municipal de Jining et le gouvernement municipal de Jining; a obtenu une "contribution au Prix de développement économique". La qualité des produits et la crédibilité des entreprises s'améliorant continuellement, nous avons attiré l'attention de plus en plus d'entreprises nationales et internationales.
Nom de la compagnie: Shandong Tiancheng Chemical Co., Ltd.
représentant: Zhu Niande
Produit / Service: Chlorure de 3-chloro-2-hydroxypropyltriméthylammonium , AKD Wax , Alkyle Kétène Dimer , Réactif cationique , Agent de force humide , Agent de résistance à sec
Capital: 60,000,000RMB
Année d'Etablissement: 1999
Volume total annuel des ventes (en millions de US $): US$5 Million - US$10 Million
Pourcentage des exportations: 31% - 40%
Total volume d'achat annuel (en millions de US $): US$10 Million - US$50 Million
Nombre de Lignes de Production: above 20
NombrNombre du Personnel de R&e du Personnel de R&D: 21 -30 People
Nombre du Personnel de QC: 11 -20 People
Service d'OEM fourni: yes
Superficie de l'Usine (mètre carré): 10,000-30,000 square meters
Adresse de l'Usine: No. 66 west of beizhan road, yanzhou, shandong, china
Personne À Contacter: Ms. Tiancheng chemical
Numéro De Téléphone: 86-86-7927788